Conference hotspot - MICE-Location Boutique Convention 
Your conference location in Innsbruck: Where meetings meet quality
With the MICE-Location Boutique Convention the Hotel Das Innsbruck in Tyrol's capital a new chapter in business tourism has begun. Opened in 2016, the Boutique Convention has become the new conference hotspot in Innsbruck – and it offers a trendsetting conference experience in one-of-a-kind rooms.
High-class conference rooms for high outcome
The modern meeting and seminar rooms in the Hotel Innsbruck, both designed with Tyrolean accents, create a high-quality, feel-good business atmosphere that impresses and inspires. We have thought of everything – from design furniture to equipment with state-of-the-art technology and presentation screens to relaxation corners, meeting islands and coffee buffets for casual get-togethers. And for the team workout at the River Inn after the conference or your seminar, the Nordic Walking poles are already ready at the reception desk ...  Working, meeting, thinking and enjoying become one at the Boutique Convention Innsbruck: a mixture that allows people to achieve top performance in a relaxed manner, promotes loyalty and team spirit. 


In the category of seminars we were classified by Gault & Millau 2022 with only 25 other seminar companies in the row of the best in Austria. Thank you for this honor! "The best seminar hotels, which are characterized by their flexibly designed rooms and first-class facilities"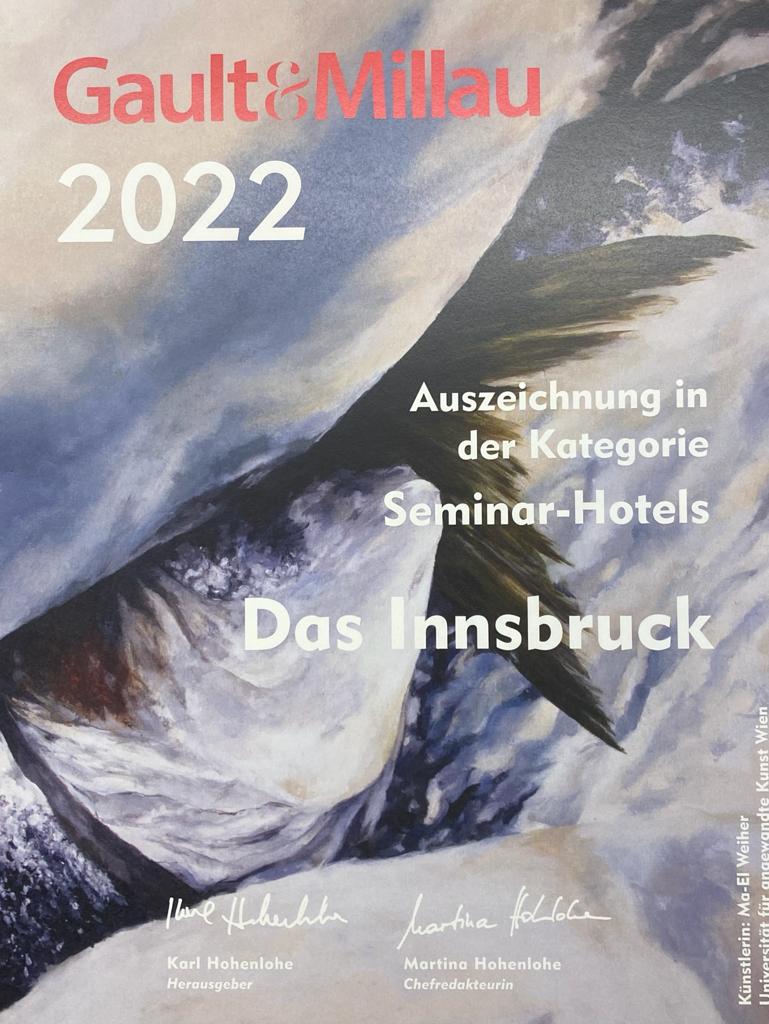 5 best reasons for Boutique Convention Innsbruck
1. One-of-a-kind location in Innsbruck for seminars and conventions: in the heart of Innsbruck's Old Town
2. Everything from one source: Conference rooms, Accommodations, Cuisine, Wellness and Leisure activities
3. Outstanding conference rooms: wonderfully equipped with modern Tyrolean elements
4. All-round service with personal support ist included
5. Concentration-stimulating climate through Swiss pine ventilators in the rooms
Our conference rooms
Excellent meetings at the Hotel Das Innsbruck
Whatever you are planning – we have the perfect space for it!
Whether it's a small meeting or a big party, an exhibition or a presentation, a seminar or a creative break, a working breakfast or a press conference – in the MICE-Location Boutique Convention you will exactly the space you are looking for.
Each room is a personality in itself! Discover our unique rooms with prices & offers now:

For an extra motivation boost